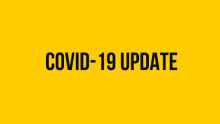 November 21, 2020 – the Saskatchewan Health Authority informed us that there was one case of COVID-19 in an individual at Scott Collegiate. 
For the safety of students and staff, and in consultation with Public Health, we have informed all close contacts and provided them information about self isolation. Affected students will begin remote learning and will not return to the school until December 3rd.
We have also contacted all school families by automated telephone call to inform them.
Letters will be sent to all school families on Monday, November 23rd.