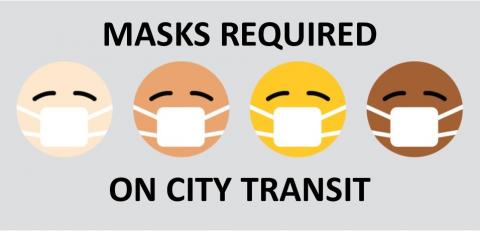 OCTOBER 15, 2020 -- As COVID-19 cases increase in our city, Regina Transit is reminding all passengers to continue to wear masks on public transit. Starting on October 19, 2020, Regina Transit will be denying service to elementary and high school students who do not wear a mask or alternative face coverings while boarding and riding the bus.
If students do not have a mask, it is recommended that they source one to avoid being denied rides in the future. Passengers can wear non-medical face masks, including alternative coverings like a bandana in two layers wrapped around the mouth and nose. It is important to note that mask exemptions are still in place for children under five years of age, persons with medical conditions, or those who cannot place or remove masks without assistance.
Mask use should be combined with other protective measures, such as physical distancing and proper hygiene, including hand washing, not touching your eyes, nose or mouth with unwashed hands, and, of course, staying home if you are not feeling well.